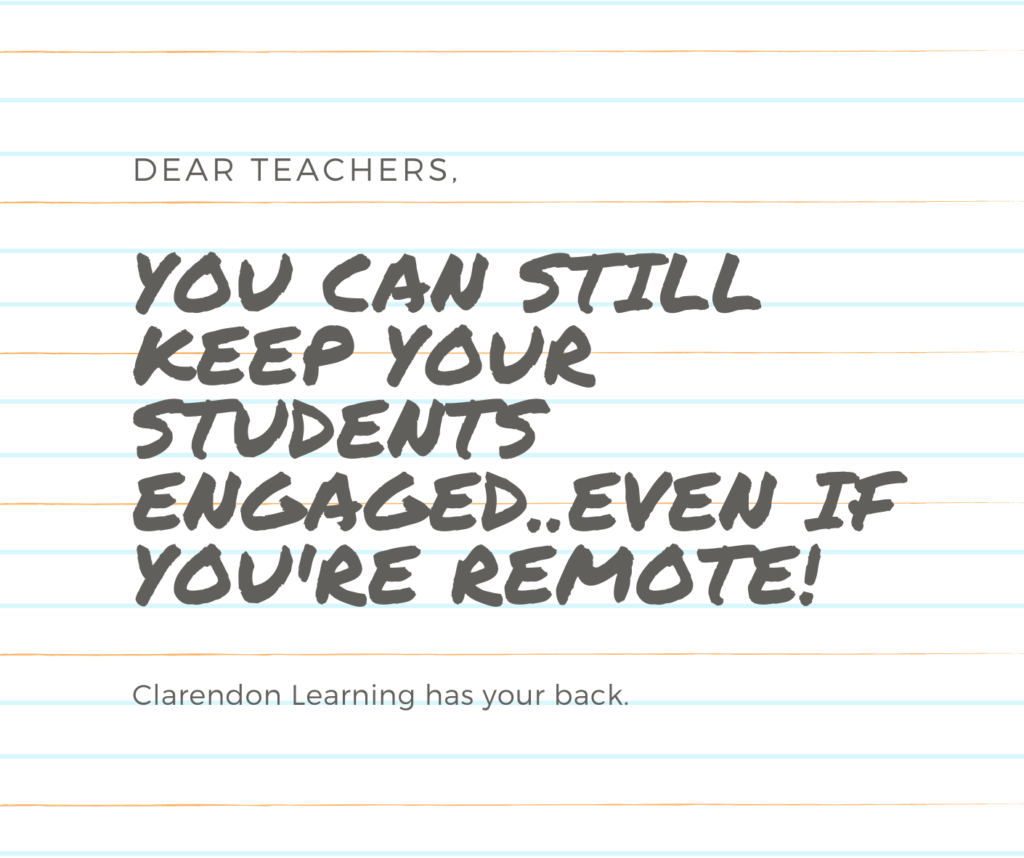 As if keeping students engaged wasn't already challenging enough! With remote learning at an all-time high, teachers are now expected to navigate more chaos than ever. We know that now, more than ever, teachers are feeling overwhelmed and stretched thin. The new education model is challenging to say the least, but not truly impossible. 
Many teachers are rightfully concerned with student engagement. In the classroom, teachers can pick up on cues that students aren't getting it or have wandered off track. Online learning is a challenge because it puts students and their caregivers in the driver's seat. With this in mind, we have five tips to help educators keep virtual control of the classroom. 
Create a central hub for both parents and students
Communication is more important than ever right now. This is why we actually recommend over communicating these days. It is of paramount importance that students have all the information they need, because they certainly won't feel engaged if they're confused about what, how, or when to do something. Consider creating a hub and housing all documents through Google Classroom or ClassDojo. 
Make sure your lesson plans are digestible
Short and steady will win the race. We recommend 15 to 20 minute lessons at a time. This way, students can focus and process the information they just took in. If you must do a longer online session, try to give the students a few minutes every now and then to get up and stretch. Remember, everyone is probably overwhelmed with the new circumstances.
Discussion boards are a thing
Discussion boards will help your students interact within the digital classroom and aid them in communicating with you as well. Promoting classroom dialogue ensures connectivity, and this is key to leveraging engagement.
Provide step-by-step instructions for everything
You can never be too detailed–especially while everything isn't in-person. Many students and parents will be relying heavily on detailed instruction for increased clarity and comfort. When students learn online, they don't have the benefit of a teacher going around the room to check for understanding as they work through problems. To give them extra support, provide videos of you explaining problems or activities with step-by-step instruction. Anticipate questions students could have and address them in the video as well. You can also do this live, but it's best if students have a recording so they can go back and watch it again if needed.
Students and parents may need to talk more than usual. Everyone is struggling to stay afloat, and may need more reassurance than before. Dedicate a few hours each week to virtual office hours. Some students might not want to ask a question during a whole class meeting; video conferencing office hours give them a chance to interact directly with you.
Need help with your lesson plans?
We understand the time and resource constraints that are put on teachers so we developed lesson plans that are straightforward and easy to follow, whether remote or in-person.
From the introduction of the lesson material to the activities and worksheets, you can have confidence that our lesson plans will be a hit with your students, both online and in the classroom.
Access our free lesson plans here.